If the topics covered in Admissible: Shreds of Evidence inspired you to learn more about unreliable evidence or ways to support local and/or national efforts to ensure accountability in the criminal legal system, you may find the following collection of resources helpful as you consider how to take action.
Advocacy Groups & Organizations
Books (Fiction)
An American Marriage,

by Tayari Jones




In this 2018 novel, Roy, a young executive, and Celestial, a rising artist, are a young Southern couple with big dreams until Roy is sentenced to 12 years in prison for a rape he didn't commit. This novel uses multiple perspectives to tell the story of a family torn apart by wrongful conviction.

 

If Beale Street Could Talk,

by James Baldwin




James Baldwin's 1974 novel was brought to life this year in the Barry Jenkins film of the same name. Baldwin writes the poetic love story of Fonny and Tish, set in 1970s Harlem. Just as they are building a life together, Fonny is falsely accused and convicted of rape, and Trish must navigate new motherhood and the corrupt criminal justice system with the help of her family.
Books (Non-Fiction)
Freedom is a Constant Struggle,

by Angela Y. Davis




A collection of essays, interviews, and speeches that the renowned activist uses to examine today's issues—from Black Lives Matter to prison abolition and more.

The New Jim Crow – Mass Incarceration in the Age of Colorblindness, by civil rights litigator and legal scholar Michelle Alexander


This book discusses the mass incarceration of African-American males in the United States. That mass-incarceration is, metaphorically, the new Jim Crow.

Charged: The New Movement to Transform American Prosecution and End Mass Incarceration,

by Emily Bazelon

 




F

ollows the story of two young people caught up in the criminal justice system: Kevin, a twenty-year-old in Brooklyn who picked up his friend's gun as the cops burst in and was charged with a serious violent felony, and Noura, a teenage girl in Memphis indicted for the murder of her mother. Bazelon tracks both cases, exploring every phase of the criminal justice process—from arrest and charging to trial and sentencing—and, with her trademark blend of deeply reported narrative, legal analysis, and investigative journalism, illustrates just how criminal prosecutions can go wrong and, more important, why they don't have to.

Viral Justice, by Ruha Benjamin


This part memoir and part manifesto

is a sweeping and deeply personal exploration of how we can transform society through the choices we make every day.

Solitary

, b

y Alfred Woodfox




The memoir of Black Panther Albert Woodfox, who served more than 40 years in solitary confinement in a 6-foot by 9-foot cell, 23 hours a day, at the notorious Angola prison, a former plantation in Louisiana. Woodcox and his fellow Panthers, Robert King and Herman Wallace, were framed for the murder of a prison guard in retaliation for their demands for more humane living conditions in prison.

The Sun Does Not Shine: How I Found Life and Freedom on Death Row, by Anthony Ray Hinton


Hinton tells his story of three decades on death row for a triple murder he didn't commit, and how Alabama's legal system condemned him to death without regard for the truth because he was poor and black. The case was eventually taken to the U.S. Supreme Court by author and attorney Bryan Stevenson, and Anthony was exonerated and released in 2015. His account is a testament of forgiveness for the people who caused his wrongful conviction and a triumph for his survival in Alabama's heinous prison system conditions.

Autopsy of a Crime Lab: Exposing the Flaws in Forensics, by Brandon L. Garrett
This book exposes the dangerously imperfect forensic evidence that we rely on for criminal convictions. Taking us into the lives of the wrongfully convicted or nearly convicted, into crime labs rocked by scandal, and onto the front lines of promising reform efforts driven by professionals and researchers alike, Autopsy of a Crime Lab illustrates the persistence and perniciousness of shaky science and its well-meaning practitioners.
The Cadaver King and the Country Dentist: A True Story of Injustice in the American South, by Radley Balko and Tucker Carrington


A shocking and deeply reported account of the persistent plague of institutional racism and junk forensic science in our criminal justice system, and its devastating effect on innocent lives.

Picking Cotton: Our Memoir of Injustice and Redemption, by Jennifer Thompson-Cannino and Ronald Cotton


The New York Times best selling true story of an unlikely friendship forged between a woman and the man she incorrectly identified as her rapist and sent to prison for 11 years.

Just Mercy: A Story of Justice and Redemption, by Bryan Stevenson


A memoir by American attorney Bryan Stevenson that documents his career defending disadvantaged clients. The book, focusing on injustices in the United States judicial system, alternates chapters between documenting Stevenson's efforts to overturn the wrongful conviction of Walter McMillian and his work on other cases, including children who receive life sentences, and other poor or marginalized clients.

 
Documentaries
The 13th – In this 2016 documentary, by filmmaker Ava DuVernay, scholars, activists and politicians analyze the criminalization of African Americans and the U.S. prison boom.
The Central Park Five – Filmmakers Ken Burns, Sarah Burns and David McMahon examine a 1989 case of five teenagers who were wrongfully convicted of raping a woman. After they had spent from six to 13 years in prison, a serial rapist confessed to the crime.
Time – Entrepreneur Fox Rich spends the last two decades campaigning for the release of her husband, Rob G. Rich, who is serving a 60-year prison sentence for a robbery they both committed in the early 1990s in a moment of desperation.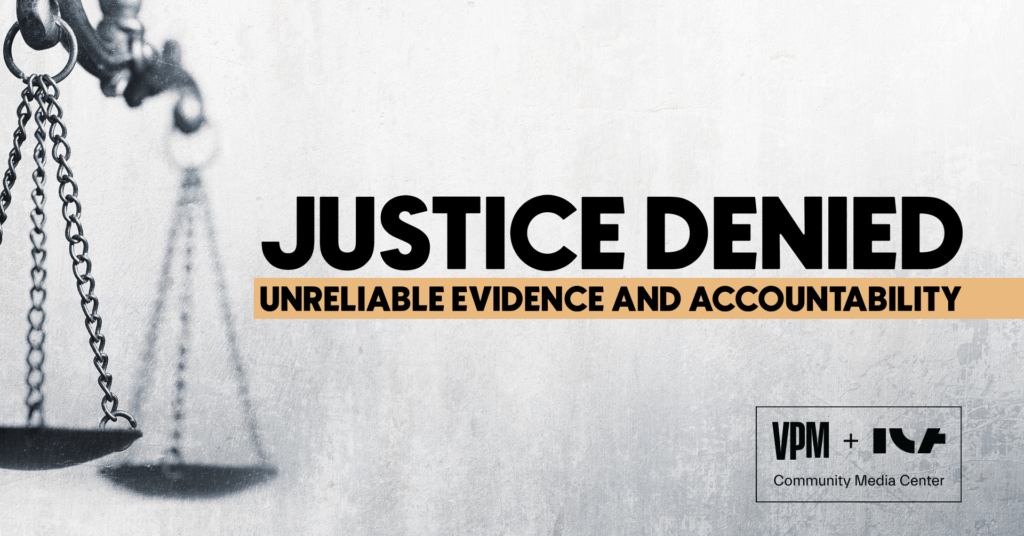 Acknowledgements
Many thanks to the participants from Admissible's in-person panel conversation, Justice Denied: Unreliable Evidence and Accountability, for providing these resources.